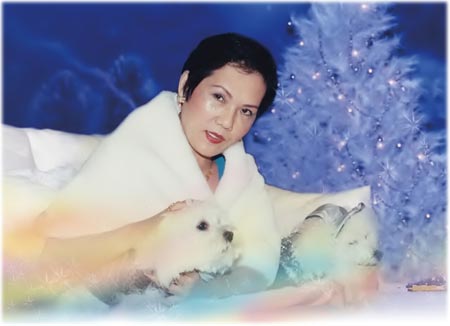 Master's Words
We're supposed to be more intelligent than dogs or other beings, but we still do silly things because our minds distract us. How many times do you have the feeling that something is right, you have an intuition about it and you're going to do it, but then you look at the outside circumstances and your brain tells you, "No, no. That's not the right thing to do," and you forego it. And later on you regret it because it's exactly the thing you should have done!
If you hadn't looked at the outer appearances or circumstances, you would have done the right thing. Similarly all beings do what they do because they also have brains, and most animals have younger brains than we do. For example, dogs have the brain or IQ of a ten-year-old; that's what we've been told, but sometimes it surprises me. Yet maybe they should have such a low or young IQ so that they can love unconditionally and innocently like kids.
We grown up people calculate too much and say, "If I say I love you, what do I get from it?" Or, "If I treat you nicely, what's the good for me? What's in it for me?" But kids don't calculate so much — very little! Maybe for toys or affection, but not much else, not like a business.
So, maybe that's why animals are so unconditional, so loving and so forgiving. You can scold a dog very badly or spank his bottom and he yelps, but then he comes and loves you the next minute, right away. The minute you call, he comes and forgets all about what you did before. Whether you're right or wrong, he doesn't mind. Whether you have a loud mouth or terrible garlic breath, he'll still kiss you. He doesn't mind if you don't change your underwear for a week! He doesn't mind. That's why people love animals — because they're so unconditional. They don't judge you, ever. Whatever you are, you're the person they love, the only one.

From "The Pure Love of Animals"
News 159, Master's Words
Spoken by Supreme Master Ching Hai
International Christmas Retreat, Florida, USA • December 23, 2001
(Originally in English) Videotape #725

From ancient times until now, the Asian people, especially the Chinese and Aulacese, think turtles are very sacred animals because they live very long. And sometimes they understand things, so the people dare not kill these animals.
Of course, there is some truth in this. Just like before, Aulacese fishermen worshipped dolphins and friendly whales. Because sometimes during storms and dangerous situations like typhoons, a whale or a dolphin would help them guide their boat and even push the boat back to safety. Sometimes they pushed the human beings who were drowning in the water back out of the water. Therefore, animals such as this were never killed. And if one happened to die accidentally or if its death was known, the fishermen or those people who swam in the sea for that reason would make a tomb for the whale or the dolphin and worship it day and night.
So there are some animals that are extremely intelligent. There is no doubt, and we know it, too. Even pigs or house pets are known for their qualities of faithfulness, loyalty, friendliness and helpfulness in times of trouble. Many of your newspapers print articles about miracles done by animals. For example, a dog rescues children from a burning house or a pig runs many miles to get aid for his owner, even though a moment later the owner might cut his throat. Or a horse stays with the tomb of his master until the horse's death, and never eats anything. Or a dog will never leave the tomb of his master, etc. There are a great many things like this.
So it is not odd that humans sometimes think that animals are better than themselves. It could be true, in some aspects. After all, all beings are created by God anyhow, so why couldn't they have the God spark inside them as we do? Just because they're in a different form and use a different language doesn't mean they are in any way less worthy than we are. African people may be black and speak an African language, but that by no means says they are less worthy than the white Americans or yellow Asians.

From "All Living Creatures Are Equal"
News 134, Pearls of Wisdom
Spoken by Supreme Master Ching Hai
San Jose Vegetarian House, California, USA • June 30, 1994
(Originally in English) Videotape #437