Center Events
*An Exotic Retreat at the Wonderland of Hsihu
*The Heavenly Rainbow Garden
*New Heavenly Playground Shines With Master's Love
*Birthday Celebrations For An Enlightened Master, And The Inauguration Of The Korean Youngdong Center
*West Africa Retreat
*Paradise in New Jersey
*A New Spiritual Lighthouse in France
*Continuous Surprises at the New Budapest Center
*A Journey to Heaven — Helping to Construct the Budapest Center
*Marulan Initiates Joyfully Celebrate the Opening of a New Center
*Precious Spiritual Lessons Learned through Selfless Service
*Protection from an Impending Calamity
*Sincere West Africans Hasten to Learn the Supreme Teachings
*The Love Ocean Arts Center Opens in Taipei
Letters between Master and Disciples

News 93, Special Reports
Birthday Celebrations For An Enlightened Master,
And The Inauguration Of The Korean Youngdong Center
| | |
| --- | --- |
| | In an ethereal valley purified by rain, Fallen petals everywhere, little blooms on the bushes, The grassland stretches like a green velvet carpet dotted by white blossoms. Cool is the night, and bright is the moon in the silvery sky. Against a black velvet curtain, clusters of stars shimmer. The symphony of great nature echoes in our ears. Once a valley like any other, now a paradise in heaven, Awesome is the beautiful landscape. |
White-robed Goddess Sings in The Valley,
Blessing the Hills With Gold Light and Heavenly Sound
Brother initiate Li of South Korea has a fascinating story to tell about his purchase of the Center and preparations for the international five-day retreat. While preparing to buy a selected spot in the mountains, in his dream, brother Li saw a geyser bursting forth from between some rocks. A giant spiritual tortoise was sitting atop a hill and, standing beside it, was a beautiful lady dressed in a white traditional Korean costume who was emanating brilliant light. Her profile could only be seen vaguely as blissful tunes flowed joyfully from her lips in superb harmony with the melodious, high-vibration sound current streaming down from heaven. When brother Li awoke from his dream, he knew it was a message from God telling him that he should purchase this blessed land very quickly.
| | |
| --- | --- |
| | |
This vision soon materialized. Master arrived at the Center in a white Korean costume and alighted from Her car directly in front of the tortoise-shaped hillock. She inquired about the progress of the construction work, and jested that, by the time fellow initiates have walked up this hill, the road would be leveled without much ado. Many Korean initiates had heard about this strange dream, so when they saw it enacted in real life, they were exalted and fully convinced of Master's almighty power.
Brother Li revealed how he and other initiates had failed to find an ample supply of water when drilling for an underground source. However, when they shifted to another spot near the tortoise mound, a natural spring gushed forth, just as it did in the dream.
Legend has it that this land was a sacred place of spiritual practice. Since ancient times, only spiritual practitioners have dwelled on this pristine wonderland, free of human habitat and industrial pollution. The air is fresh and the water is pure enough to be drunk without filtering. Wildlife abounds in the rich foliage of the valley, where edible wild vegetables, herbs, and mushrooms grow in abundance. Although the annual rainfall has been scanty, this changed soon after the land was acquired by fellow initiates. Much to the amazement of the local inhabitants, the rainfall increased appreciably, nourishing the forests on the hills.
| | |
| --- | --- |
| | |
Fellow initiates offered free medical services and vegetarian feasts in nearby villages during the construction work. Master's deep respect for the community and its religious faith was evidenced in Her instructions that a temple be built in which the local people could worship the Buddhas of their choice. To prepare for the upcoming international five-day retreat, Korean initiates made time to work together on construction projects and other preparations. They leveled the land, opened up roads, planted pretty flowering bushes on the steep hillsides, and suspended resplendent lotus lamps from the trees. All these efforts bespoke their delight in welcoming the children of God from around the world.
The meditation hall was erected with plastic covers traditionally used for grape patches. As Master remarked, people grow grapes under these coverings, but here we grow saints. On May 5, Master visited the working staff in the meditation hall before the retreat formally commenced and praised them for getting the Youngdong Center ready in such a short time. Contact persons, invited to sit on the platform with Her, discussed issues about their respective Centers.
Quan Yin Bell And Drum Reverberate;
Retreat Ends On Meritorious Note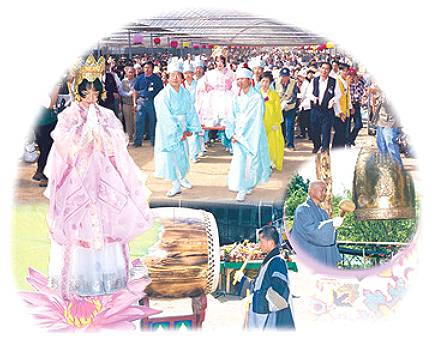 Dong-Dan-Dong-Dan! An earthly paradise, Korea's Youngdong Center opens
to the reverberating beat of drums and the gong of bells.
It was a warm sunny morning on May 6. Master looked adorable in a magnificent and exquisite Korean costume sewn by Korean disciples. Wearing a golden crown on Her head, She struck the bell and beat the drum to mark the inauguration of the retreat. Korean resident disciples then struck the bell 36 times and the drum 72 times. The ethereal sound reverberated throughout the valley in a touching moment for all. Over the next few days, Master invited groups of fellow initiates to sit with Her on the platform while She answered their questions about spiritual practice.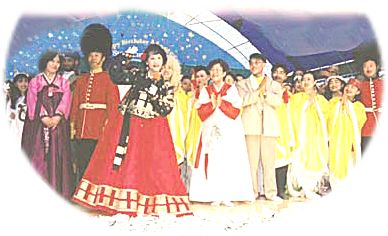 The classically romantic atmosphere adds a special note to Mother's Day and Master's Birthday celebration.
The retreat ended at noon on May 10. When the Transfer of Merit verses were sung, Master inched Her way through the crowd blessing everyone. "It's not easy climbing Mount Sinai," She said humorously of the strenuous walk around the meditation hall that is set on a steep slope. That afternoon, initiates donned their best clothes while numerous ceremonially dressed guests arrived to partake in the Buddha's Birthday and Mother's Day celebrations. With a red flower tucked behind Her ear, Master appeared in a crimson, royal Korean costume with black vest and golden brocade on the front. Greeted by thunderous applause, She was escorted into the venue by two ladies wearing ceremonial Korean costumes. On the VIP seats on either side of the platform, Korean monastic practitioners who had come in admiration of Master formed a most striking group with their tidily shaved scalps and gray monk robes. In addition, a group of the members of Korean Woman Entrepreneurs Federation; Mr. Kwak Seong, the conductor of Pusan Philharmonic Orchestra, the representative of Mr. Kim Geun-Soo, Mayor of Sang Ju city, the representative of Mr. Kim Jae-Yeol, the chief magistrate of the district, and Mr. Kim Woon-Sik, the village headman also participated in the celebration.
Plaques of appreciation, presented to (from left to right) Mayor Kim Geun-Soo of Sangju City, received on his behalf by Mr.Lee Soo-Boo, director of the New Community Development Department, Chief Magistrate Kim Jae-Yeol of the District, received by his representative, and village Headman, Kim Woon-sik.
| | |
| --- | --- |
| | |
| | |
Fellow initiates presented an excellent program which explored the "profound" meaning of life and had Master often bursting into hearty laughter. The performance opened with the powerful rhythmic "Five-Drum Dance" by the Korean hosts. A group of young initiates presented the "Spring Flowers" dance reminding the children of God of the good times they had when they were little. A sister initiate from Switzerland sang a folk song while guiding the audience in exercises with her. Singaporean initiates presented the "Quan Yin Dance" featuring the thousand-hand and thousand-eyed Quan Yin Bodhisattva and Her Golden Boy and Jade Girl. A brother initiate from South Africa sang a self-composed ode to Master. Other outstanding programs included traditional Thai musical instruments, a modern dance from Formosa, and a folk song sung by a New Zealand sister. A unique comedy about six pugilist hermits from the United States earned showers of blessed candies from Master. The program ended with "The Buddha's Dream" drama performed by English initiates and a musical drama by Korean disciples depicting a fallen princess searching for enlightenment and the way Home. The Mother's Day and Buddha's Birthday celebrations formally ended as did the successful five-day retreat after Master cut the birthday cake for everyone.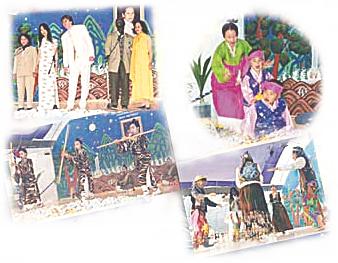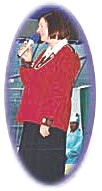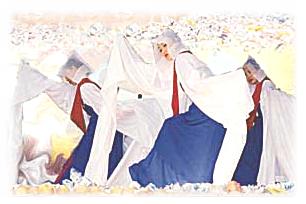 Compassionate Master Stays
Another Week To Meet Delayed Aspirants
| | |
| --- | --- |
| | |
On the evening of May 12, Master received departing disciples, allowing them to sit around Her and distributing gifts to each. She remarked that it was on this day, years ago, that She was born in Au Lac. No special arrangements had been made for the occasion since it had already been celebrated on Mother's Day. Nonetheless, Master requested the kitchen to prepare hot tea and snacks for a delightful gathering with disciples in the meditation hall. On this birthday of an Enlightened Master, many fellow disciples, like children trying to please their mother, competed with each other, sharing jokes, and singing ditties and songs to the accompaniment of the guitar. Led by Master, everyone sang and had a great time at this very special, relaxed and unforgettable evening on the birthday of our beloved Master.
As during retreat time, over the next few days, Master came every day to meditate and chant the Holy Names with fellow initiates and to meet with the new arrivals. Fellow practitioners and guests from around the world congregated Sunday, May 17 to hear Master deliver Her final discourse for this event. She remarked that Scientific discovery shows us that everything impossible today is possible tomorrow. We can do anything if we know how. Similarly, to tune into the Universal Power to get whatever we want from this great reservoir of energy and possibilities, we just have to know how. So, we have to tune into the vast reservoir of energy in order to nourish ourselves. As great human beings as we are, we have to bloom in full, spiritually, with the mind power, and with the body. Missing any of that, we are not fully developed human beings.
Postscript:
Master asked initiates to pray for Her so that She could continue Her work saving sentient beings. She requested that we always remain alert to help Her physically when She is working for our benefit. As an example, She cited an incident that occurred at the opening ceremony when She almost tripped over Her long skirt, but no one offered a helping hand. To emphasize Her point, Master recounted a story from ancient Thailand at a time when everyone was strictly forbidden to touch the queen. One day, the queen, in the later stages of pregnancy, was sailing in a boat when she fell into the water. Being forbidden to touch her, the people were afraid to save the queen and so they stood by and watched her drown. Master stressed that laws are made to protect us, and not the other way round. Even if we have to die to save others, we should do it. And as long as we are pure at heart, we should help Master without hesitation.
Master also requested that we relay a message to our fellow initiates. She asked everyone to refrain from demanding that Master visit any particular country or town since these requests add to Her pain and pull Her in different directions. The best way is to go where Master is available in order to see Her, but not to pray that She visit our place. Since Her comings and goings are in compliance with God's will, demands from initiates place added burdens and stress on Her and make Her feel as if She is being torn apart.
When Master was bidding us farewell, we could feel and somewhat understand the pressures that She suffers from the prayers of sentient beings. Internally, Master was in agony, undecided as to what She should do — go or stay. She yearns for the free and easy lifestyle that we have, instead, She is constantly being dragged along by the karma and demands of sentient beings. Master was very sad when She said goodbye. As She tearfully looked back at us from the departing car, we could not stop the tears from rolling down our cheeks.
~ Dear brothers and sisters, please pray for Master always ~

| | |
| --- | --- |
| | A 96 years old grandmother from Mainland China made this pair of insoles for Master's shoes, hoping that Her feet would be more comfortable as She walks around on the Earth in Her endeavor to save people. |