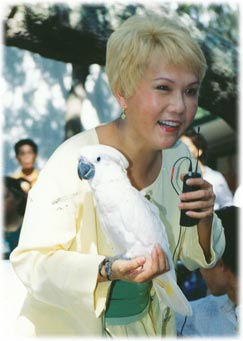 Master's Words
Animals are our brothers and sisters, and it's very important that we know how to live with them harmoniously and respectfully because they're there for a reason. You can see that certain birds and animals carry out special jobs in the world. Some, like vultures, even clean up garbage. Of course, they make a mess of it, too! But their job has something to do with the whole environment, the balance of our planetary ecosystem. They help balance nature to keep the atmosphere good and clean.
Everything has something to do. For example, trees are here to give oxygen to the planet. Without trees, we'd die. Really, we would. We'd die without trees because we'd have no more oxygen, and there would be less water because there'd be no trees to attract the water and retain the moisture when it's there. So all things on this planet, including us, are inter-related and are helping each other to make our life here comfortable and livable.
If we don't know that, then we're killing ourselves. Every time we kill a tree or kill an animal, we're killing a little part of ourselves. If we have to cut trees, we should replant more. For example, plant three more. But even that takes time; the tree has to grow up. So, if you intend to cut trees, you should plant others beforehand. Because it takes a long time for a tree to be able to produce good air and absorb the bad air for us. Bigger, older trees have a greater ability to do this than younger trees, even though they may appear to be the same size. Just like when we're older, we have more abilities and more knowledge about things, including spiritual wisdom. Our growth is similar.

From "Honoring All Life Maintains Nature's Balance"
News 153, Pearls of Wisdom
Spoken by Supreme Master Ching Hai
Florida Center, USA • June 6, 2001
(Originally in English) Videotape #714

We're supposed to be more intelligent than dogs or other beings, but we still do silly things because our minds distract us. How many times do you have the feeling that something is right, you have an intuition about it and you're going to do it, but then you look at the outside circumstances and your brain tells you, "No, no. That's not the right thing to do," and you forego it. And later on you regret it because it's exactly the thing you should have done!
If you hadn't looked at the outer appearances or circumstances, you would have done the right thing. Similarly all beings do what they do because they also have brains, and most animals have younger brains than we do. For example, dogs have the brain or IQ of a ten-year-old; that's what we've been told, but sometimes it surprises me. Yet maybe they should have such a low or young IQ so that they can love unconditionally and innocently like kids.
We grown up people calculate too much and say, "If I say I love you, what do I get from it?" Or, "If I treat you nicely, what's the good for me? What's in it for me?" But kids don't calculate so much — very little! Maybe for toys or affection, but not much else, not like a business.
So, maybe that's why animals are so unconditional, so loving and so forgiving. You can scold a dog very badly or spank his bottom and he yelps, but then he comes and loves you the next minute, right away. The minute you call, he comes and forgets all about what you did before. Whether you're right or wrong, he doesn't mind. Whether you have a loud mouth or terrible garlic breath, he'll still kiss you. He doesn't mind if you don't change your underwear for a week! He doesn't mind. That's why people love animals — because they're so unconditional. They don't judge you, ever. Whatever you are, you're the person they love, the only one.

From "The Pure Love of Animals"
News 159, Master's Words
Spoken by Supreme Master Ching Hai
International Christmas Retreat, Florida, USA • December 23, 2001
(Originally in English) Videotape #725

Actually, this world belongs to everyone, including the animals. That's why we follow a vegetarian policy. Because this world has come into existence due to the force of the thinking power of all the beings that exist on this planet. We wanted this place, so it exists, including the animals. But when we came into this world, we thought it belonged to us. Everyone thought it belonged to themselves. Therefore we started to get rid of the other 'aliens' — the red, the black, the yellow and so on.
The red wanted to get rid of the white. And the white got rid of the black. And then the black and the white and the yellow got rid of the animals, and so on. And so we have forgotten that we are the co-owners, not the sole owners of this world. That is why we should not kill animals, should not eat them and of course especially should not kill any other beings. But in the name of politics, national love or religion, sometimes we kill. And we justify our killing with many glorious excuses.
Actually, this is not the right thing to do. Because we kill today and in the next life we're killed. Therefore wars always continue in our world, and then we always wonder why. But there is nothing to wonder about. When we sow something, we reap the fruit thereof. Even the Bible says so — "As you sow, so shall you reap." And for those of us who have not suffered the effects of war or any other conflicts, that means we have not sown the seeds of violence. So if we continue to keep it that way, even if we do not practice meditation, even if we do not worship God officially or registered-wise, then we will be born again as a safe, secure, healthy human being. Because we have not planted the seeds of damage, of war or of violence.

From "Share the World with All Beings"
News 134, Pearls of Wisdom
Spoken by Supreme Master Ching Hai
San Jose Vegetarian House, California, USA • June 30, 1994
(Originally in English) Videotape #437