News 167, Master's Words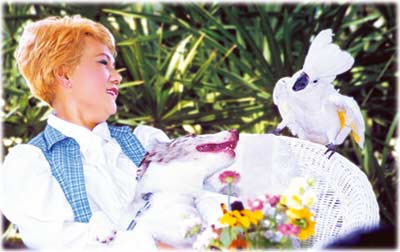 The Power of Telepathy
Spoken by Supreme Master Ching Hai
Surrey, United Kingdom • January 2, 2006
(Originally in English)
You don't have to be a psychic or a dog talker to understand the language of dogs. They understand you. They understand English, Russian, German, French — whatever you speak to them, they understand very well. Because dogs understand words by pictures, whatever words you speak form a photo or a picture in their mind. And that's how they understand you perfectly clearly, with no mistake about it. In every language, every word has a symbol, invisibly.
That's also why I tell you to be pure in speech. Because it does have an impact on the people who hear it and it does have a real meaning. It does form a picture, and it does send some energy, bad or good, to the environment that you're walking around in with it. So that's why we have to be pure in speech and action, and thought as well. Everything has a reason. I am not trying to control you or anything; I am just telling you all the scientific evidence and scientific logic behind the precepts that we keep.
Everything we think also forms some kind of picture that people can see as well. Some people can; not everyone can. Nevertheless, it will be around in the ether and people can perceive it. And the energy does stay. Depending on how strongly you mean it at the time of saying it or thinking it, it will last longer or it will last shorter. But, it will last. And sometimes it lasts for a long time, almost forever.
You've heard about the curse from generation to generation: it's true. The person doesn't have to be a witch to form this kind of curse energy; it can come from some person with strong hatred or strong love or strong revenge ideas in his or her head. When he says it with all his mighty power, then it will come true, whether it's a curse or a blessing. That's why sometimes you go to a priest or some holy person and say, "Please, bless me," or, "Give me some blessing." Because it does work; it's not superstition.
Maybe in the future we won't need television or anything similar; we can just tune in wherever we want, and the picture will come on. And that's what telepathy is all about. Dogs and animals have more telepathic power than we do because we lost it. Many of us lose it, because through the complication of the survival network we have to think too much in physical terms, and do too much in the physical field and think too much about physical obligations because of survival. So, we are more and more physical every day, and that's how we forget the telepathic self or the telepathic ability that we had.
Some people still retain it, to the minimum or maximum, or half-and-half. Sometimes, in some instances, you seem to understand what your partner is saying, without his speaking it aloud. That's when you collect a little scattered ability of the psychic power that you do have. Now and again, it comes out. And that is true. Can you imagine, if we hadn't lost it all we'd have it all the time. But it's also good in a way. Because if you have that power, you don't always hear the good but you always hear the bad also. And that would be a little bit too much for us.