Animals
Body
Children
Courage
Dreams
Earth
Ego
Emotions
Enemies
ETs
Family
Life
Love
Marriage
Mind
Money
Peace
Positive and Negative Power
Profession
Reincarnation
Sex
Yin and Yang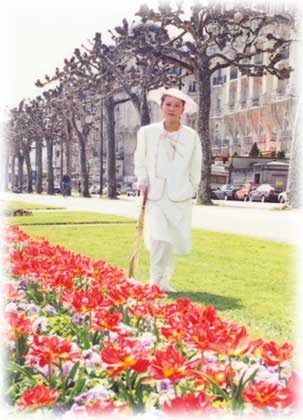 Earth
Our planet is a very beautiful, "spaceship". We can say "spaceship". It carries many sentient beings in mid air and circles around. Our planet gives us a lot of comfort and joy. It gives us a lot of treasures, and sustains our lives through many ways and means. But then we also have a little duty towards our Mother Earth, to help her to remain in such a powerful position so that she may be able to help us.
Everything we do affects everyone in this world and the next. Every religion mentions to us that all things; all beings are one in essence. Just like our body has many parts. If our hands hurt, it affects our whole body also. Just because the universal body is so great, and we the many beings in this great body cannot understand, cannot see the whole universal body, so we may not believe that our actions concern any other beings. Should we develop the kind of Celestial Eye, the Wisdom Eye, we would see this for ourselves that we are indeed connected with all beings; and then we would be very careful about what we do.

From "A Spaceship In The Universal Body"
News 96, Pearls Of Wisdom
Spoken by Supreme Master Ching Hai
Columbia University, New York, USA • November 3, 1989
(originally in English)

If we truly love our Earth planet, if we truly love our later generations, if we love our children, then we must bless the world. We can't bless it with our eight hours a day of work. Plenty of people have done that for centuries, and it hasn't altered anything much. We have to bless it with the supreme power, with God's grace, which is in all of us.

From News 99, Pearls Of Wisdom
Spoken by Supreme Master Ching Hai
Brisbane, Australia • March 21, 1993
(originally in English)

Ahimsa
Buddha
Chakras
Enlightenment
Free Will
God
Golden Age
Group Meditation
Heaven
Islam
Jesus Christ
Karma
Prayer
Religions
Samadhi
Spiritual Practice
Supreme Master
Wisdom
Wisdom Eye
Bible Stories
Master Tells Jokes
Master Tells Stories