Animals
Body
Children
Courage
Dreams
Earth
Ego
Emotions
Enemies
ETs
Family
Life
Love
Marriage
Mind
Money
Peace
Positive and Negative Power
Profession
Reincarnation
Sex
Yin and Yang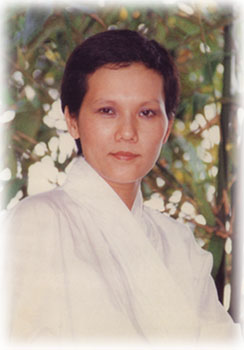 Supreme Master
Q:
Why do You call Yourself, "The Supreme Master"?
M: Well, my Father is the Highest Master and I have Hiers name, like you call yourself Mr. Muller and your daughter will be called Miss Muller. Right? [Applause]
Q: Who gave You this title?
M: I already said that it's my Father's name. [Laughter] Indeed, Hes is The Supreme Master. And I come from Hirm. You too, but you've forgotten it. That's not my fault. [Laughter & Applause]

From "The Key of Immediate Enlightenment -
Special Edition/1993 World Lecture Tour", Volume V
Spoken by Supreme Master Ching Hai
Vienna, Austria • April 27, 1993
(originally in German)

In case you are still bothered about the name "The Supreme," actually it doesn't belong to me. I long ago already dedicated my everything to God; therefore, this is not I who speak or who do anything. "Ching Hai" is the name of the body; "Supreme Master" is the name of God. And since it is stated that we are all children of God, you can also call yourself "The Supreme Master" and add your name — "Smith," "Jones," "Churchill," or whatever. [Laughter] It is not what we call ourselves or are titled. It is how we feel about it. Humility doesn't come with a very humble title; it comes from within.
When we realize that we are all children of God, and we and the Father are One, that is where true humility begins. Many people do not call themselves "The Supreme" but they feel "supreme," all the same. Anyhow, they rightly do so; we all have the supreme power inside. Whenever we pray using the name of God, or we happen to come across any name that denotes the highest power in the universe, we should remember that this is where we come from and this is where we belong. This is our inheritance; it is our True nature. Sooner or later, all of us will realize this. And the more we realize this, the more humble we become.

From "You Are The Supreme Master"
The Key of Immediate Enlightenment -
Special Edition/1993 World Lecture Tour, Volume II
Spoken by Supreme Master Ching Hai
Brisbane, Australia • March 20, 1993
(originally in English)

Ahimsa
Buddha
Chakras
Enlightenment
Free Will
God
Golden Age
Group Meditation
Heaven
Islam
Jesus Christ
Karma
Prayer
Religions
Samadhi
Spiritual Practice
Supreme Master
Wisdom
Wisdom Eye
Bible Stories
Master Tells Jokes
Master Tells Stories