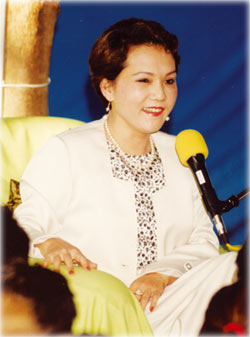 The Secret to Rectify Bad Habits
Spoken by Supreme Master Ching Hai
Taipei, Formosa • March 2, 1990
(Originally in Chinese)
If we sincerely wanted to change, we can change some of the good or bad things. Most of the good or bad influences were formed when we were young. As a child, whatever people did to us, our feelings would be distinctly recorded in our mind. As we grow up, these memories accompany us. Therefore, our actions and responses are exactly the same as when we were young. It is not that difficult to change these good and bad influences. Though we are ignorant of our past lives or karma, at least we can avoid incurring future karma; and this is already good enough.
It is very simple to rectify our bad habits. Go home and think about it: Was there anything that pleased us when we were young? When was it that something unpleasant happened and gave us pain? Write everything down one by one. What was our reaction when we suffered, or when we were happy; write down all of them. Everyday, write down any good points that we have, in our diary. If there are any faults that we abhor or if are disliked by others, and which we want to correct, also record them in our diary. Introspect on ourselves everyday to see how many good and bad things we have done. In about three months, we can improve a lot. If we do not deceive ourselves and are sincere in our introspection, we could possible rectify all of them in a few years.
If we can rectify ourselves and increase the good qualities in us, our life will attract many of the so called blessed retributions. It is recorded in the scriptures: By doing good deeds, we shall be rewarded with blessed retribution. Since our atmosphere is good, we will attract good things to us, and then become even better. The bad atmosphere will attract the bad things, and then become worse. Therefore, spiritual practitioners are becoming better, while the non practitioners are becoming worse and worse. This is the reason.
It is absolutely accurate for the Chinese to say that "things of the same nature attract each other"! Whatever the ancient people said was always true, because they had the experience, and they knew it from the wisdom derived from spiritual practice. This is a little secret method that I offer to you today as a reference, if you wish to give it a try. You may pursue spiritual practice; and at the same time, you may introspect on yourself, and pray to the highest God, the highest Buddha, the highest Holy Mother or any god that you like or believe in most. Pray for their blessing, so that we will become better and better to benefit the country, our family and ourselves.