News 103, Panorama of Events
Report from Formosa
Celestial Jewelry as Reflected in Children's Minds
[Hsihu] Works entered in the children's art competition on the theme "Celestial Jewelry" held by local Centers throughout Formosa were put on display at Hsihu Center on Mother's Day. Through their lovely creative art works, the children fully expressed their perceptions and appreciation of heaven as well as the Celestial Jewelry. They captured the elegance and splendor of the Celestial Jewelry of their choice in pictures that shone with joy and beauty. This competition was held for children in three school age categories.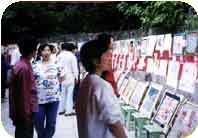 Exhibition of children's paintings of Celestial Jewelry at the Hsihu Center.
Youthful Visions of the Celestial Jewelry
[Hualien] The announcement about the children's art competition on Master's ninth-generation Celestial Jewelry elicited a widespread favorable response from young initiates who rushed to submit their works.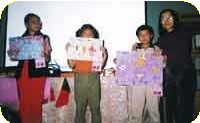 Through their lovely creative art works, the children fully expressed their perceptions and
appreciation of heaven as well as the Celestial Jewelry.
The competition began with grown-up initiates discussing the meaning behind the Celestial Jewelry collection; the children later digested their explanations and amalgamated them into their works. When they submitted their works to the judges, each of the children elaborated on his or her work, and the meaning behind it. One of them drew many little figures of Jesus Christ, and he had this explanation: "Since Master has thousands of manifestation bodies, so does Jesus!" Another child depicted a huge star in a deep sea. "The star in the deep sea represents Master's immense power. She ventures into the deep sea to save suffering beings," he said. In another picture, the background was painted purple to illustrate the darkness of the universe. And lying against this background were countless little planets and the Celestial Jewelry of "The Wisdom of King Solomon" as well as " Saint Peter's Key," both included to represent Master's power, which lights up the whole universe. The young initiates' works and interpretations repeatedly remind us of just how creative children are and how enriching their spiritual experience has been.
At the informal award presentation, the children were allowed to make their own selection from a pile of presents. Surprisingly, each child modestly chose the smallest gift for himself, leaving the bigger ones for those standing in queue behind him. The adults were deeply moved by the children's consideration. The pure hearts and humble actions of these young initiates once again proved Master's words - one can advance spiritually only by acting like a child.

Remembering our Loving Mother in the Rain
[Hsihu] The two-day retreat in May was especially meaningful, for it coincided with Mother's Day. On the night before this special day dedicated to mothers throughout the world, a light drizzle began to fall in Hsihu. By noon the next day, the rain had given way to a heavy downpour. Like the rain washing away the dirt, our dear mother and compassionate Master was busy cleansing souls and blessing people around the world. We sincerely wished Her great success on Her lecture tour.
Despite the strong winds and heavy downpours, many fellow practitioners in Formosa brought their family members to the Mother's Day celebrations at Hsihu Center. We gathered in the Meditation area around noon, watching and listening to a videotaped lecture by Master. It was as though our loving, humorous, and dignified Master was by our side, imprinting the words one by one on the souls of each fellow practitioner to elevate his or her spiritual level.
Later, a long-time fellow practitioner generously shared his thoughts with us. Before he came to follow Master, he had visited a number of temples and been with many spiritual groups. Once, during a visit to Fokuangshan in Kaohsiung, southern Formosa, he saw an engraving on a stone wall depicting Shakyamuni Buddha delivering a discourse to His disciples 2,500 years ago. The disciples were carved in different postures; some were seated, some were lying on the ground, some were listening attentively, and some were scratching their heads or bodies. This senior fellow practitioner was deeply impressed by the easy and relaxed atmosphere depicted in the carving.
He noted that nowadays - 2,500 years later, we are there listening to Master's lecture, sharing the same experience of blissful relaxation and enlightenment. We have also had rich improvement in both daily life and spiritual practice, he said. This proves just how lucky and great our merits are that we have had this chance to meet a living Master, listen to Her teachings, and follow Her!
The celebrations also included a sing-along with a choir. We sang "Hallelujah", "Mother, You Are So Great", "Go! Go! Go!" "Children Who Have Mothers", and "Little Lambs Want To Go Home." The melodies touched our hearts and reminded us of our longing for heaven and our spiritual Mother. Some sister initiates were moved to tears while singing along, striking a chord in our hearts. After the singing, everyone gathered to share blessed food, feeling greatly contented both physically and spiritually.

Vegetarianism on Campus
| | |
| --- | --- |
| | |
| | |
| | |
| | Taipei initiates introduce vegetarianism to university campus in Formosa. |
[Taipei] A series of "Vegetarian Week" activities were held in April on the Shih Hsin University campus by the university's Savor Society and the Supreme Master Ching Hai International Association. This was part of their combined effort to share with young people the benefits of vegetarianism as well as the "no killing, be compassionate" ideal advocated by the Supreme Master Ching Hai. The week's lively activities ranged from food-eating contests and enlightening lectures to fun question-and-answer sessions and vegetarian food sampling.
The "Vegetarian Week" began on April 26 with a "big belly" contest, where students paired up to devour vegetarian beef noodles. On the second day, Professor Su spoke on losing weight and eating healthily with vegetarianism to kindle the young people's interest in a vegetarian diet. The April 28 event included an on-site demonstration of easy vegetarian cooking by Professor Su, who prepared many dishes of savory foods prepared with a colorful combination of vegetables. Students sampled each dish of the naturally flavorful vegetarian food and complimented the culinary skills of the professor with dazzling smiles.
At the April 29 ceremony that marked the close of "Vegetarian Week", participants held balloons in their hands as they made individual prayers and a more universal prayer for a world made purer and more peaceful through vegetarianism. The colorful balloons were then released, their sheer numbers forming a spectacular sight as they floated upward through the air. Participants also sampled several vegetarian dishes prepared by the sisters of the Supreme Master Ching Hai International Association.
Once the students understood the benefits of vegetarianism and experienced the delicious flavor of vegetarian foods, they fervently hoped that this concept would quickly become part of people's lives and thereby enhance their physical and spiritual health, raise their consciousness, and transform the world into a pure land.

Cleaning Golden Beach with Family Members
[Tainan] On April 17th, fellow initiates from the Tainan Center invited their relatives and friends to the famous Blue Beach on the west coast of Tainan, Formosa. The Supreme Master Ching Hai International Association hosted a program called, "Cleaning Golden Beach with Family Members". The help and direction of the Tainan Environmental Protection Bureau included parking lots for the participants, and vehicles to transport the collected trash.
When we arrived at the beach, our hearts were filled with pain from seeing scraps of paper, cigarette butts, beverage cans, remains of fireworks, bits of broken glass and abandoned machine parts everywhere in the area. It was like a garbage dump. Our youngest initiates included, we immediately began to collect the garbage, despite the scorching sun.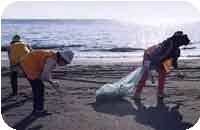 Fellow initiates from the Tainan Center collect garbage on the beach, under the scorching sun.
Through everyone's concerted effort, a clean and beautiful golden seashore was revealed in the sunset. Some little initiates flew colorful kites in the sky while Master's soft voice spoke from a tape player. Hand in hand, family members paddled in the water, watching the splendid sunset. Not only did we help improve the environment, but we also refreshed the loving relationship between friends and family members. There was also the revelation that if we could all just make an effort to protect our environment, we could leave a paradise to future generations.