[Mechelen] On Sunday November 21, 2004, Belgian initiates conducted a videoconference at a spiritual bookshop in Mechelen, near Brussels, Belgium. Master's News magazines and photographs were displayed at the bookshop entrance to greet guests as they entered the store.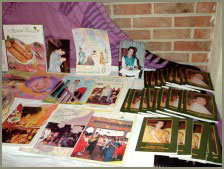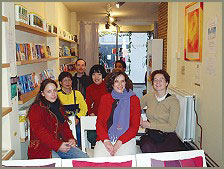 To begin the event the guests were shown Master's lecture at the 1999 Parliament of World Religions. And afterwards several audience members, including the bookshop owner, remained to learn the Convenient Method of meditation. After meditating with the initiates for thirty minutes, the new CM practitioners asked to receive copies of Master's magazines and sample booklet, and also expressed their wish to participate in vegetarian cooking lessons.
The initiates who took part in the Mechelen videoconference thank Master for giving them such a pleasurable opportunity to share Her love and blessings, and eagerly look forward to next year's event.