[Paris] In June 2002, French initiates held a festive party at the Paris Center to celebrate the release of the French edition of "I Have Come to Take You Home". The contact person invited initiates, would-be initiates and those who had participated in Master's translation work, as well as their friends and relatives, to the party. This excellent new translation will provide the French-speaking population around the world with a valuable resource for contacting the Truth.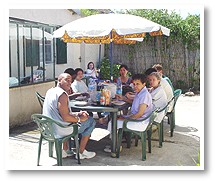 The book publication party includes a vegetarian cooking session, during which initiates demonstrate how to prepare standard French cuisine and Asian delicacies.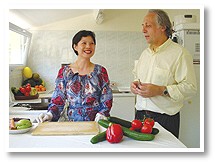 Initiates hold a casual and relaxing "Happy Yogi Country Fashion Show" at a beautiful town in the south of France to give local residents a chance to appreciate the rich and multi-dimensional creativity of a spiritual Master, and the happy, open ambiance of Her disciples.