News 104, Panorama of Events
Report from Nepal
Buddha's Light in the Holy Land
| | |
| --- | --- |
| | |
| | Weekly group meditation at the Kathmandu Center in Nepal. |
[Kathmandu] Located in a western suburb of Kathmandu, our Center happens to be on a small hill across from the famous Buddhist holy place - the Suayambunath Temple, which has a history of over two thousand years. According to the locals, Shakyamuni Buddha stopped at this temple and gave lectures. On the hills around our Center are many lama temples, big and small. With the spinning wheel of Dharma in their hands, believers are seen everywhere concentrating on mantra recitation. In this atmosphere of faith and peace, the infinite light of Buddha has been re-revealed after a long time, with the blessings of Master. In addition to the regular Saturday group meditation, one-day retreats are held during holidays. Disciples are bathed in the light of this Holy Land and enjoy the supreme blessing power of our living Master.
| | |
| --- | --- |
| | |
| | The Supreme Master Ching Hai establishes affinity with sentient beings through art. |
In order to introduce Master's teachings to more people, local disciples and a Quan Yin messenger worked together and held an exhibit of Master's lamp designs and paintings in an art gallery in downtown Shrikutimandap in Kathmandu. Disciples did their best to finish all the preparatory work, such as distributing flyers, putting up posters and decorating the exhibit area. Three famous newspapers including The Kathmandu Post in English, and The Kantipur Daily and Himalaya Times in the local language, and the TV Station Kantipur, which serves the largest audience of any station in the area, all reported news of Master's art exhibit.
Master's lamps and paintings were very much appreciated by local painters and people of all backgrounds. One particular painter visited the exhibit every day to enjoy Master's paintings, and took notes now and then.
| | |
| --- | --- |
| | |
| | Visitors to Master's art exhibit eagerly register for initiation and Convenient Method training after coming into contact with Her teachings. |
The exhibit lasted for three days. The constant crowds enjoyed Master's artistic creations; but they were more attracted by Master's videos being played outside the art gallery, and Her various publications on display. Many people registered to receive initiation and learned the Convenient Method. Visitors kept asking the Quan Yin messenger questions about the Quan Yin Method. They also exchanged their experiences from different spiritual practices.
Among those who registered to learn meditation, many already knew the physical and spiritual benefits of keeping a vegetarian diet, and had already been vegetarians for a long time. Eighty percent of the local population is Hindu. The Brahmins of India have observed Ahimsa (non-violence) and carried out spiritual practice from generation to generation for thousands of years. When the Quan Yin messenger conversed with them, they all felt as close as family members. Some people had practiced other methods before, but by then their only wish was to practice the Quan Yin Method under the protection and guidance of our living Master.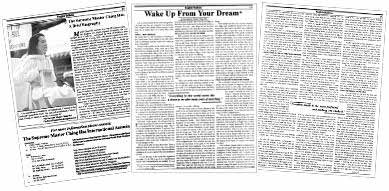 A university in Pokala, Prithivi Narayan Campus, introduces Master and Her teachings in its campus journal.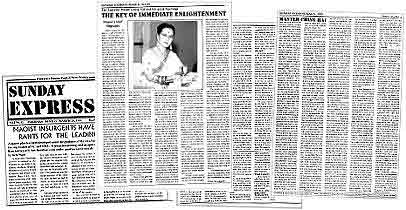 The English newspaper - The Sunday Express in the second largest city in Nepal, Pokala,
repeatedly reported the content of Master's lectures.